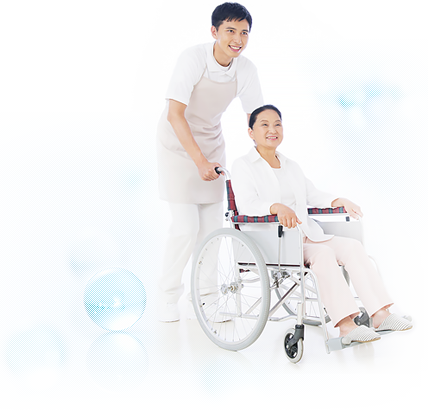 Almost all senior citizens requiring nursing care experience dental problems (such as poorly fitting dentures, cavities, and gum disease). Many of these same senior citizens are unable to walk on their own and have given up on visiting dental clinics. Tokyo Gulf Dental strives to provide these patients with kind and courteous treatment implemented from the viewpoint of the patient by our experienced house call dental staff.
In addition to general dental treatments (such as denture production and maintenance, cavity treatment, and gum disease treatment), we also provide oral care for the prevention of aspiration pneumonitis and dysphagia training.

Can I use my health insurance?

We accept standard Japanese health insurance and nursing insurance (for patients authorized for nursing care).
No separate transportation fee is assessed. For patients paying 10% out of pocket for treatment, one visit costs around ¥2,000.

Do you accept bedridden patients?

A We provide care in whatever position which avoids imposing a burden on patients, including in bed or a wheelchair.

How long does a visit usually take?

Although it varies depending on the treatment, generally around 20 to 30 minutes. We plan treatment around a patient's physical condition and circumstances.

・Accepted over the phone or via fax.
・Applications accepted from the patient, family, or nursing staff.
・Time and date are determined in line with patient request.
・During the first visit, we will ask to see various relevant insurance documents.
(There is no need to make any other advance preparations)
・One visit takes approximately 30 minutes.
・We will decide on the optimum treatment method in consultation with the patient and family members.
・We provide periodic examinations for matters such as denture adjustment and plaque removal.
・We provide oral care and rehabilitation as appropriate for patients and their environs.

Note: House calls are provided within a 16 km radius centering on Tokyo Gulf Dental.